The Early Childhood Education Alliance does much to help young children in the Alliance area be prepared for kindergarten. Here is an opportunity to have some fun, buy some student art, and support ECEA in their efforts for our students.
https://www.alliancecityschools.org/article/46826
Looks like wings for dinner this weekend: Saturday you can eat at Buffalo Wild Wings to support the Music Department. Sunday you can see Parkway staff and students shave their heads after reaching their fund raising goal for St. Baldrick's Foundation. Donate here:
https://www.stbaldricks.org/teams/parkwayelementary
If you missed the show today, it's ok. There are performances of Willy Wonka the musical throughout the weekend. Purchase your tickets here:
https://singingaviators.ludus.com
Elementary students just got done watching the first performance of Willy Wonka the Musical! It was full of magic and talent of students in preschool through 12th grade!
Do you know a kid that could use a birthday party? The YMCA is hosting the party of all parties for kids of any age. RSVP by April 26. Call the YMCA at 330-823-1930 for more info. #Acspresents

Hello Rockhill Parents, On April 19, in an effort to serve all lunches prior to leaving for AHS to watch the Willy Wonka play, first through third grade students will eat at the same time in their classrooms. The menu for this day will consist of a soy butter sandwich, broccoli, cucumber slices, a ranch cup, a fruit cup, frito's and a milk. As always, students are welcome to pack a lunch if they do not like the items on the school menu. We are looking forward to a great day!
Congratulations to Rockhill students of the month for April: Front row: Bridganae M., Autumn D., Graham L., Monserratt M., Miley G., Kristin M. Back row: Brody H., Heaven K., Natilia C., Keagan K., Gracie F., Ezra F., Aniyia S. Absent: Ja'Niyah W.
Here are the Rockhill Aviator Profile students for April: #Acspresents
Rockhill Elementary students exceeded their fundraising goal of $2,000 and raised $2,343.69 for the Leukemia and Lymphoma Society during the Pennies for Patients Campaign. They got to tape Principal Michelle Balderson and Secretary Traci Kohl to the wall! #penniesforpatients #Acspresents
Here are the February Aviator Profile Role Models for Rockhill Elementary:

Congratulations to our January Students of the Month!

Congratulations to these 3rd grade Rockhill students who serve as excellent examples of our Aviator Profile for January!
Due to the dangerously cold temperatures anticipated for tomorrow, Alliance City Schools will not be in session on Friday, January 5, 2018.
Rockhill 3rd graders Ayden H. and Cara G. are winners of Rockhill's contest to design the program covers for our Winter Concert! The concert will be held on Tuesday Dec. 19th at 6:30 p.m. at AHS.
Alliance City Schools are closed today, December 14, due to inclement weather.

Congratulations to our Rockhill students who serve as excellent examples of our Aviator Profile!​

Congratulations to our December Students of the Month!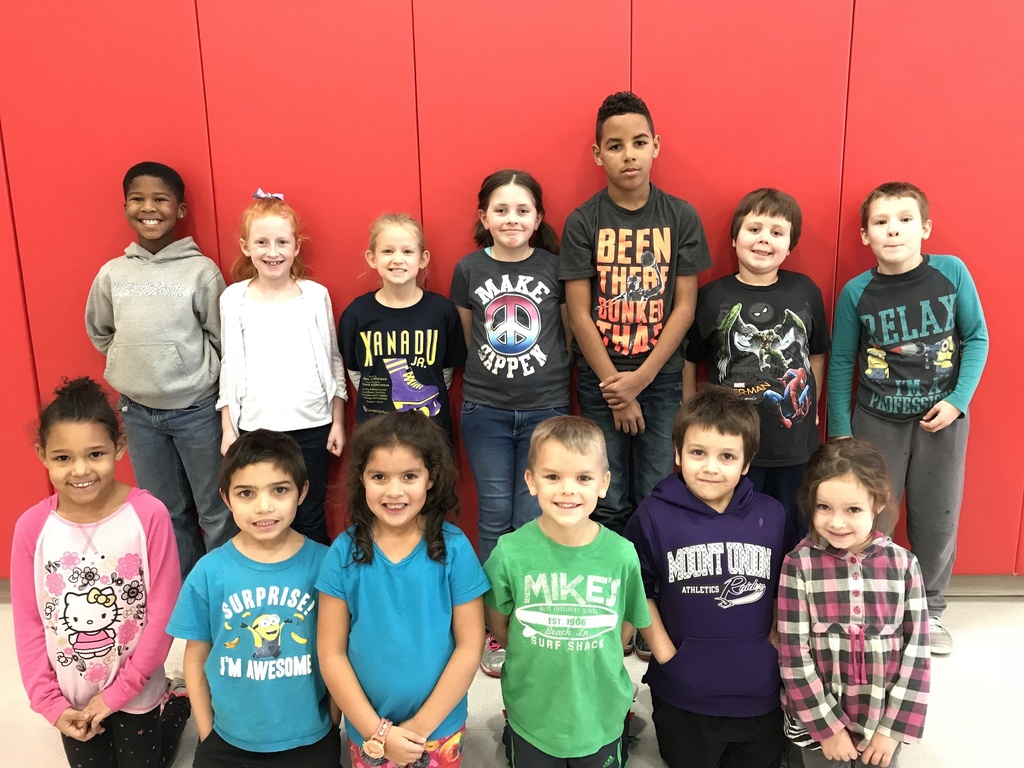 A winter coat giveaway for students will take place at the Alliance Community Center on Nov. 16 from 4-6 p.m. Donations of new or gently used coats can be dropped off at any ACS building by Nov. 15.

Congratulations to our November Students of the Month!

Congratulations to these 1st grade students for serving as excellent examples of our Aviator Profile for November!